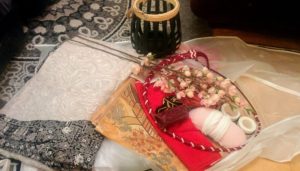 God morgon från Stockholm.
Stockholm, this is the eastern and northern place I have been in Europe so far…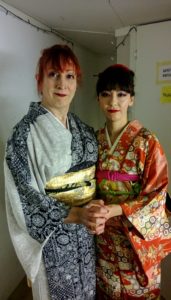 Unpacking and checking that I did not forgot anything important for tomorrow performance. This will be third chapter of the story of 鳳凰 and 朱雀. A wonderful love story which is all what's about this European Tour.

Today a first workshop for everyone and a performance with the lovely Aizen Kaguya. Saturday and Sunday an intermediate and advanced level workshop. So excited to meet peoples from northern Europe!
💓
💓
今日の後手!
愛染の大好きな大正ロマン。ストックホルムで二人の素敵な時間。
<3
<3
<3


Today's Gote!
Taisho Roman is Aizen's favorite Japanese sense of aestheticism. We are spending some precious time in Stockholm together.
<3
<3
<3
今日の最後の朱雀吊り.
ストックホルムで幸せな時間.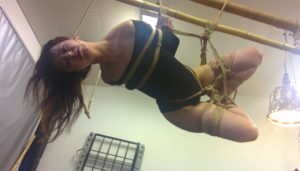 For today this was the last suspension for the lovely Suzaku Aizen Kaguya. This suspension looks like the soaring of a phoenix. It is called agura zuri. —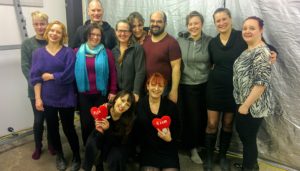 A new chapter of Soaring of Suzaku is now finished. Thanks all for your lovely and warm welcome. You all did great improvements, and new seeds of knowledge we planted in your hearts will continue to bloom. I'm very proud of you, you honoured Naka style and my sensei.
皆様, お疲れ様です!
<3
<3
<3 —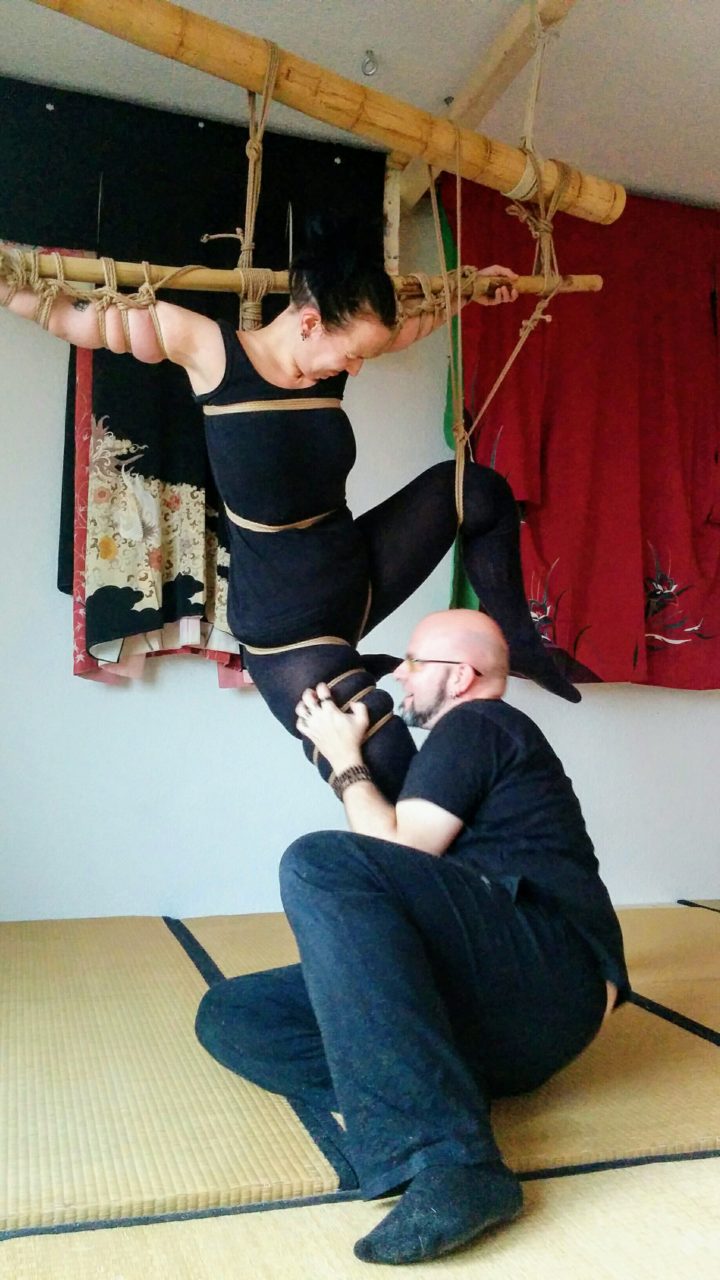 I do love when students say they just tie for learning the lesson but start to play!
Congratulations for this great weekend of sharing….
And thank you for the tears I got, watching you both after I took this photo. You made me proud to come to Europe plant some seeds hat will bloom. The Phoenix now will rise and continue to share Love, Empathy, Compassion, sensuality, beauty as much as possible in this world.
皆さん、お疲れ様でした!
Students: Marquee Koikunawa and Isabell TeCosa.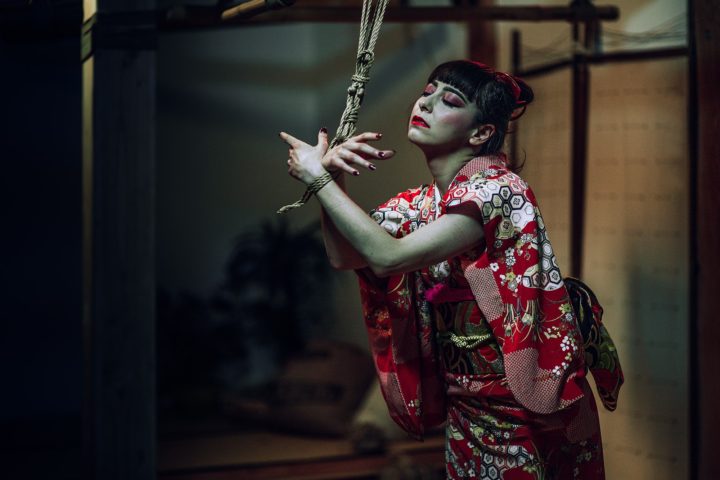 In Paris, January 2017, Saturday 21st, the Phoenix and the Suzaku meet again after 10 month of separation.
This is the second chapter and the Suzaku will burn and die. Then her ashes will go back to hearth for being able to rebirth.
It was heart breaking, and harsh love.
With the lovely and wonderful Aizen Kaguya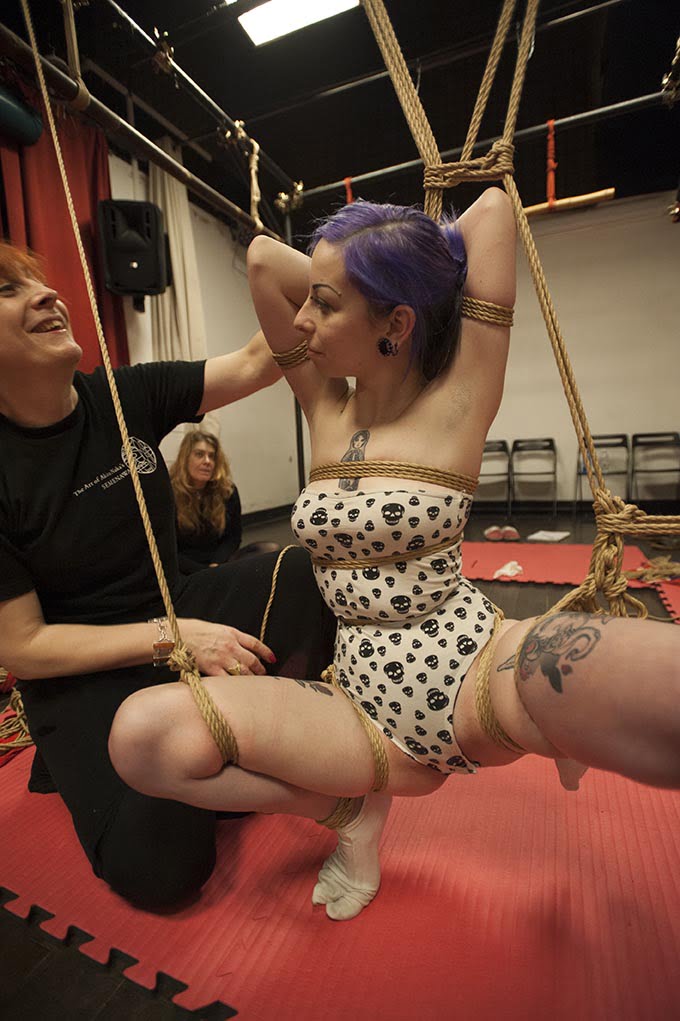 Workshop intensivo di kinbaku con Isabelle Hanikamu – Roma.
Feb. 4-5, 2017 – Roma, Italy.

Model is the lovely Usagi Momo
It was a wonderful workshop. Photos by Oliv/Photographer
Model: The lovely and wonderful Aizen Kaguya
Workshop Promoter : Alex Dirteevonp for L'École des Cordes
Promoter assistant : Nawa Kitsune
On these photography, Day 1 Hon Musubi and Ebi tsuri, Day 2 Bamboo and ropes.
These are a selection from best moments, many more tuitions have happened.
Thank you to all.
井佐鐘
Bordeaux, France. January 14th. A Tokyo style performance.
This is more a play scene with the lovely Stella, like if I was in a rope bar in Tokyo. This scene was in front a a small attendance (about 10-15 peoples) after the first day of the workshop at Eveil des Inconscience.
Photos by Corine Photo Graphiste.
After the first day of workshop at Art des Cordes Sud, François diligentely asked me to play in front of the students.
Photos by Michel.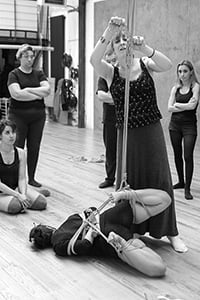 If you whish to, Isabelle Hanikamu will teach you the art of Japanese bondage (Shibari, Kinbaku) from beginner to advanced level. Both in private or group workshops at her school Kinbaku Gakkō (formerly Kinbaku dojo Montreal) or at your place, and this worldwide. Isabelle is officially licensed to teach "Naka Akira Ryu", she is a world reference at teaching this style.
I
Please send a message with the contact form for inquiries.