COMMUNIQUÉ DE PRESSE / PRESS RELEASE
POUR DIFFUSION IMMÉDIATE.
Le Kinbaku (Ligotage ou Bondage Japonais) sort des dojos, donjons, chambres à coucher ou autres lieux privés pour s'afficher ouvertement au grand public avec une des compagnies de cirque les plus créatives au niveau mondial.
À la demande de la chorégraphe Marie Chouinard, Isabelle Hanikamu intervient dans la création du nouveau spectacle "Triptyque" du collectif Les 7 doigts de la main. Isabelle Hanikamu à créé la figure et la position dans laquelle la danseuse (Anne Plamondon) est attachée et suspendue à un bambou, puis adaptée afin de rendre possible cette figure dans le cadre du spectacle. Le choix créatif est de garder l'esprit du Kinbaku, soit la beauté de la restriction d'un corps et les sensations qui en découlent, dont la sensualité, sans que cela ressemble à un numéro de cirque. il y a un désir de rester authentique, le ligotage est entièrement effectué uniquement avec des cordes, par Samuel Tétreault, qui a été formé à cette fin par Isabelle Hanikamu.
Kinbaku (Japanese Bondage) is outing from dojos, dungeons, bedrooms or other private places to be displayed openly to the general public with one of the most creative circus company in the world.
Following a request from Choreographer Marie Chouinard, Isabelle Hanikamu has been involved in the creation of the new show "Triptyque" from collective Les 7 doigts de la main (The 7 Fingers of the hand). Isabelle Hanikamu created the shape and the position in which the dancer (Anne Plamondon) is bound and suspended from a bamboo pole then adapted it to the context of the show. The creative choice is to keep the spirit of Kinbaku, or the beauty of the restriction of a body and the feelings arising therefrom, whose sensuality, although this looks like a circus show. There is a strong desire to remain authentic, the bondage is entirely made only with ropes by Samuel Tétreault, who was taught for this purpose by Isabelle Hanikamu.
From the Choregrapher MARIE CHOUINARD, COMPAGNIE MARIE CHOUINARD PIÈCE 1 : ANNE ET SAMUEL
"J'ai tout de suite accepté avec joie la belle invitation de Samuel à créer un duo de danse pour lui et Anne Plamondon. J'ai proposé poursuivre la recherche entamée en 2005 avec bODY_rEMIX/ les_vARIATIONS_gOLDBERG. Je n'avais pas, alors, créé un duo homme-femme où les deux danseurs évoluent avec des béquilles. Je souhaitais aussi approcher le Kinbaku, l'art du bondage japonais. Anne a accepté de se prêter à ce jeu et nous avons rencontré la formidable Isabelle Hanikamu. Dans Anne et Samuel il y a aussi un clin d'œil à SOFT VIRTUOSITY…, une autre pièce créée en 2015."
in : http://tohu.ca/workspace/upload/a-propos/salle-de-presse/prog_tohu_triptyque_hr_1.pdf
REVIEW: THE 7 FINGERS – TRIPTYQUE – SADLER'S WELLS- PERFORMANCE: 1 & 2 APRIL 2016
REVIEWED BY GRAHAM WATTS – TUESDAY 5 APRIL 2016
"The use of crutches (and other props) as extensions to the dancers' limbs is a regular signature in Chouinard's choreography and, here, for the first time, she has choreographed a heterosexual duet on this recurring theme. It has an arresting and indelible visual impact, suggesting diverse images of sci-fi creatures, giant vampiric insects and when combined with Isabelle Hanikamu's nautical knot-tying Kinbaku skills (the Japanese art of bondage) there are certainly overt tones of erotica."
in: http://londondance.com/articles/reviews/the-7-fingers-triptyque-sadlers-wells/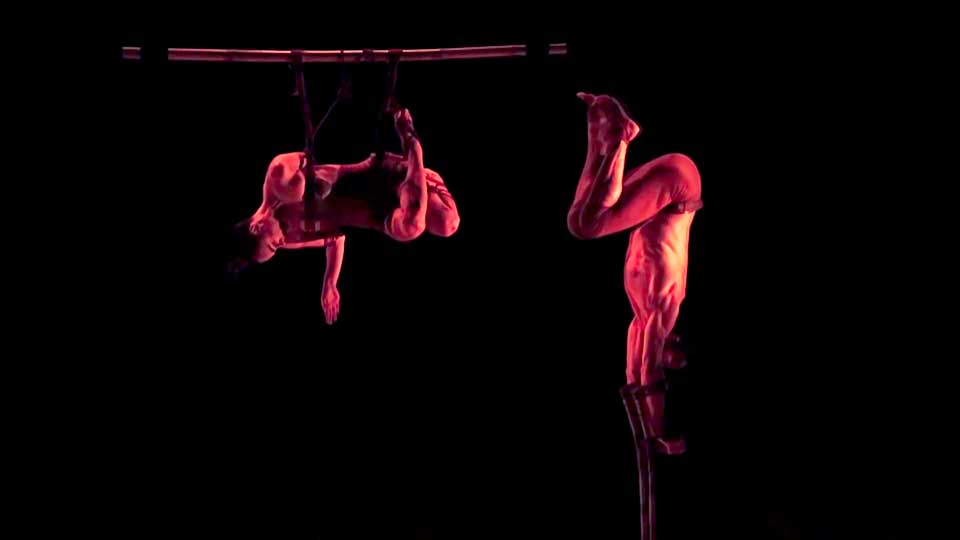 TRIPTYQUE
http://7doigts.com/fr/spectacles/27-triptyque
PREMIÈRE MONDIALE
MONTRÉAL (Qc) – TOHU
Du 14 au 25 octobre 2015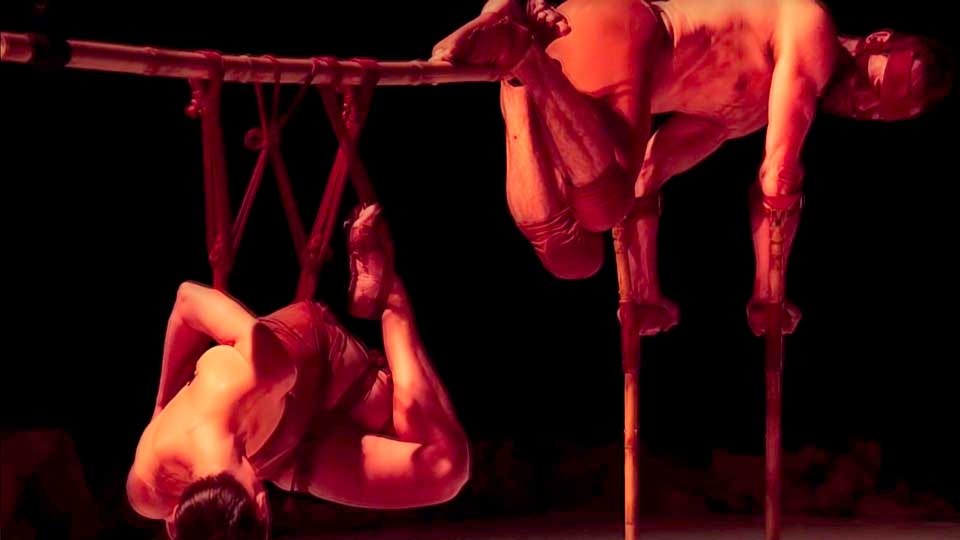 Les 7 doigts de la main
225 Rue Roy E, Montréal, QC H2X 3C8
(514) 521-4477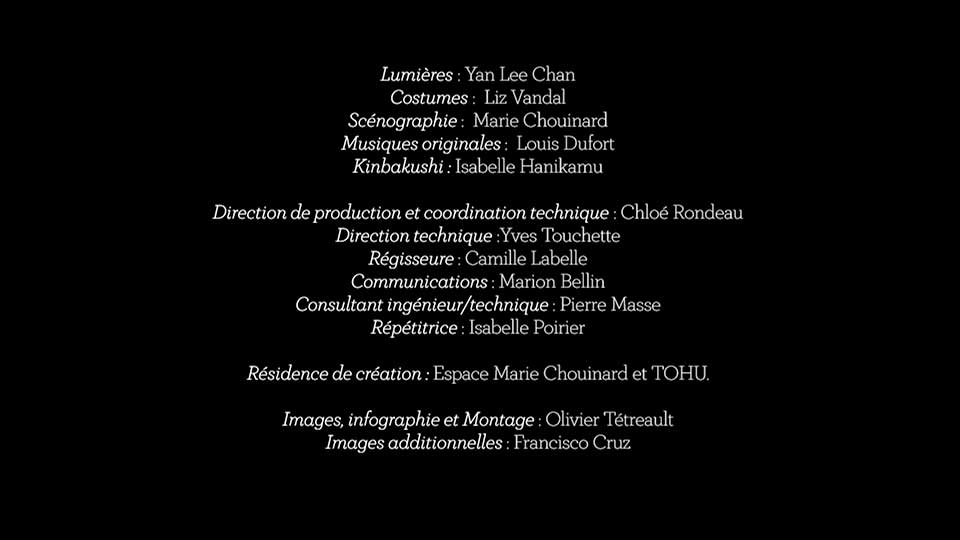 Press and media coverage: