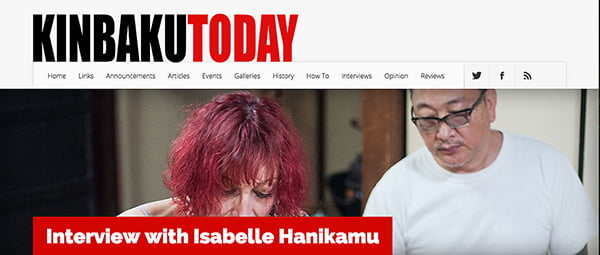 Isabelle Hanikamu is a Montreal based bakushi who has just returned from a trip to Tokyo to study with Akira Naka. She took time from her busy schedule to answer a few questions about the trip for us.
You can follow her and see more her work on her facebook page .
I first met Naka san during the workshop he taught in Berlin, January 2014. He is for me an idol since I began to practice rope bondage. When I saw this workshop appear on facebook, I was at the same time, not really expecting be skilled enough to be selected, and asking Universe and spirits to work for me because I really did want to have him as my teacher since the beginning of my journey with ropes.
I wanted to go to Japan, because if you want to learn Japanese Kinbaku spirit, this is the place to go. Because for me Kinbaku is linked to Japanese spirit, I was in need to feel with my heart, Japan and Japanese people. Books, videos or photo are not enough to feel this. I went to Tokyo because this is the place where Naka san lives and gives his privates tuitions.
I was not expecting anything, apart learning from Naka san. I was only in the need to meet again my teacher, because I have decided to be exclusive with him. So being in this state of not expecting, I can now say that, all this experience was far way beyond ,what I could have imagine it could be.
Japan weather and vegetation was something very particular for me and I was not expecting to this. I spend my teenage in the south of France near Nice and in some way I find a lot of similarities and I was very troubled in a good way. The friendliness and helpfulness of the Japanese wrapped me with even more love for these people. Strangely sometimes I had the feeling of finally being back home!About classes, I cannot compare with other teachers because Naka san, as sensei, is the only one with whom I had private tuition. I did some workshops but I mostly learned alone. Classes were not really classes but mostly discussions with sharing of knowledge. There where no defined plans for subject of lessons. My biggest surprise was mostly to be asked to perform at the very famous Jyohya club in Osaka by Kazami Ranki san. I really was not prepared for it, neither was my model, but we had great time there.
It is adjusted but less tight than it seems, sensual it is erotic and sexually arousing and for me aesthetically perfect. You should call it "Style" as Naka san himself call it, because there is nothing like Martial Art in Kinbaku and he does not run a school !
Seme nawa means something like tormenting with rope. It is the same as kinbaku because binding someone tightly is tormenting. But most of europeans and western need to put name on everything, they will use different names for the same thing, which is used not at the same time, with different peoples and in different ways. A simple cuff can be tormenting for someone and not for an other but the idea and desire behind is the same, creating a restriction that can lead do emotional release or Freedom.
Pain is for me inseparable from a kinbaku scene because kinbaku is a journey through all senses and when I drive my partner in this journey I want her/him to live all of them. I will adapt the level of pain, or whatever level of sensation, depending on the partner.
In Japan, Yes, of course. Spirituality! …
I needed to feel and live Japan's kokoro [ed. Japanese for "heart"]. Everything here is linked to, and you cannot do or think of anything without having a reference to it. For me forgetting this, or not living this state naturally, will make you permanently tie in a western style, which is fine also if this is your style.
Well, there are so many things he passes me. These were private talk and as it was not an interview I swore not to share… But my feelings and philosophy is deeply inspired by Naka sensei ones.
I will continue to do kinbaku in my way influenced by Naka san style. I am allowed by Naka san to teach this style and some patterns, so this is what I will do, If some are interested to ask me to give lessons or workshop I will considerate real offers. And of course I will continue to learn because this is a very gratifying part of the process, I will come back to Japan to continue to learn with my teacher Naka san, as soon as possible.
Not really. I was mostly comforted in them, as I already have been the first time I met my teacher.
http://www.kinbakutoday.com/interview-with-isabelle-hanikamu/