Bordeaux, France. January 14th. A Tokyo style performance.
This is more a play scene with the lovely Stella, like if I was in a rope bar in Tokyo. This scene was in front a a small attendance (about 10-15 peoples) after the first day of the workshop at Eveil des Inconscience.
Photos by Corine Photo Graphiste.
After the first day of workshop at Art des Cordes Sud, François diligentely asked me to play in front of the students.
Photos by Michel.
一夜恋路に歌舞伎町で
Tokyo !
This place in the world of virtue and depravation, a place where you can meet so many charming peoples. I love so much living
there.
This night of November 18th 2016, after having a tasteful dinner at my preferred Izakaya in Shinjuku I had a date with a very cute girl from Hong-Kong, at Mitsu-Mitsu Bar in Kabukicho. It seems that I often have a love affair beginning there.
I went one hour before the planned meeting with this model, so I would have time to chitchat with Yoi san the owner. There where 3 girls in the bar, already knew two of them. This is where I met Tsukio.
While talking, she was playing some kind of funny perverted and dirty game with Tanuki and Ningyou, my two buddies who accompany me all over the world.
Oh! I already loved her!
(and this is now the beginning of a new story, don't miss a chapter!)
一夜恋路に歌舞伎町で 2
So, you are such a perverted and sexual pleasure oriented mind as myself, was my thoughts. Of course when I proposed to tie her up she said yes, then I choose a juban for her…
"Perversion is just another form of art. It's like painting or drawing or sculpting. Except instead of paint, us perverts use sex as our medium. "
― C.M. Stunich, Losing Me, Finding You
一夜恋路に歌舞伎町で 3
I definitely loved her smell and taste, then I had a desire to discover her body. Her shyness was so cute at the same time.
"The Flower that smells the sweetest is Shy and Lowly."
― William Wordsworth
一夜恋路に歌舞伎町で 4
Did not have my kanzashi pouch this night, but the red tenugui would fit her juban to hold her hair. And I so deeply loved this light but firm resistance she had when I added a rope on her right thigh.
I had then to hold it wide open to make her feel as Ningyou when she played with her a few minutes earlier, shy.
"If you say I hide things because I'm shy, that can't be right. I've finally realized it's for a different reason– that I don't want to see the darkness that lies in my heart"
― Natsuo Kirino, Real World
一夜恋路に歌舞伎町で 五
I love to relate my feelings and what happens when we play. And usually you only can see the photo I take. Fortunately this particular evening there were many peoples in Mitsu Bar and so you can see and enjoy my face when enjoying these plays, Thanks to Yoi san and Yuki san, you can see the scene of pleasures…
"Pleasure to me is wonder—the unexplored, the unexpected, the thing that is hidden and the changeless thing that lurks behind superficial mutability. To trace the remote in the immediate; the eternal in the ephemeral; the past in the present; the infinite in the finite; these are to me the springs of delight and beauty."
― H.P. Lovecraft
一夜恋路に歌舞伎町で 六
I learned a new Japanese word this night… 気持ちいい (kimochii) meaning "feeling good" and everyone at this time was feeling good for different reasons. Was also so friendly and funny.
I now had a desire to go somewhere more intense in the pain.
"Not so much two ships passing in the night as two ships sailing together for a time but always bound for different ports."
― P.D. James, The Lighthouse
一夜恋路に歌舞伎町で 七
She was so beautiful, I could hear her deep and slow breezing and smelling this very particular soft smell of pain and pleasure mixed in a spicy fragrance.
"Sex pleasure in women is a kind of magic spell; it demands complete abandon; if words or movements oppose the magic of caresses, the spell is broken."
― Simone de Beauvoir
一夜恋路に歌舞伎町で 八
時時無限 ♡♡♡
"Tie your heart at night to mine, love,
and both will defeat the darkness
like twin drums beating in the forest
against the heavy wall of wet leaves.
Night crossing: black coal of dream
that cuts the thread of earthly orbs
with the punctuality of a headlong train
that pulls cold stone and shadow endlessly.
Love, because of it, tie me to a purer movement,
to the grip on life that beats in your breast,
with the wings of a submerged swan,
So that our dream might reply
to the sky's questioning stars
with one key, one door closed to shadow."
― Pablo Neruda
一夜恋路に歌舞伎町で 九
As an Ikebana during fall I had desire to make you even more beautiful than you are.
「羨ましい美しいう成って散る紅葉」
" urayamashī utsukushī u natte chiru momiji "
how I envy maple leafage which turns beautiful then falls
– Shikō (1664-1731)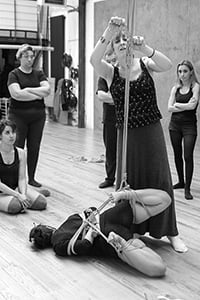 If you whish to, Isabelle Hanikamu will teach you the art of Japanese bondage (Shibari, Kinbaku) from beginner to advanced level. Both in private or group workshops at her school Kinbaku Gakkō (formerly Kinbaku dojo Montreal) or at your place, and this worldwide. Isabelle is officially licensed to teach "Naka Akira Ryu", she is a world reference at teaching this style.
I
Please send a message with the contact form for inquiries.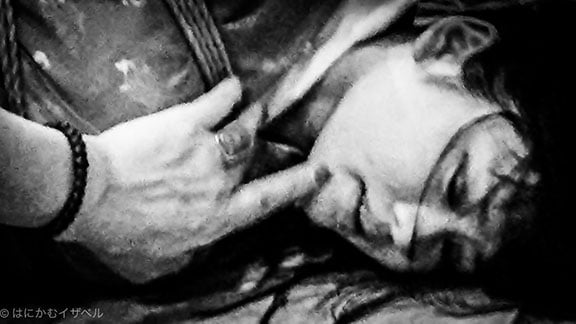 2016, April 16th. I am peacefully having evening meal at the Izakaya near my apartment in Nakano Shinbashi.
Then Yoi san message me on Line App :
今夜はたくさん外人きてるよ (A lot of foreigners, do you come tonight?)
日本の女の子のを縛ってる (Japanese girl to be tied for you)
In fact I will have 2 scenes this lovely night and also will be tied later (but this is an other story).
The first one was so cute but I do not have pictures because she prefer to keep her privacy and it is totally OK !
Second one was the lovely いちるちゃん. Thanks to Yoi san for the photos took with a cell phone that I edited.
This was such a delightful night !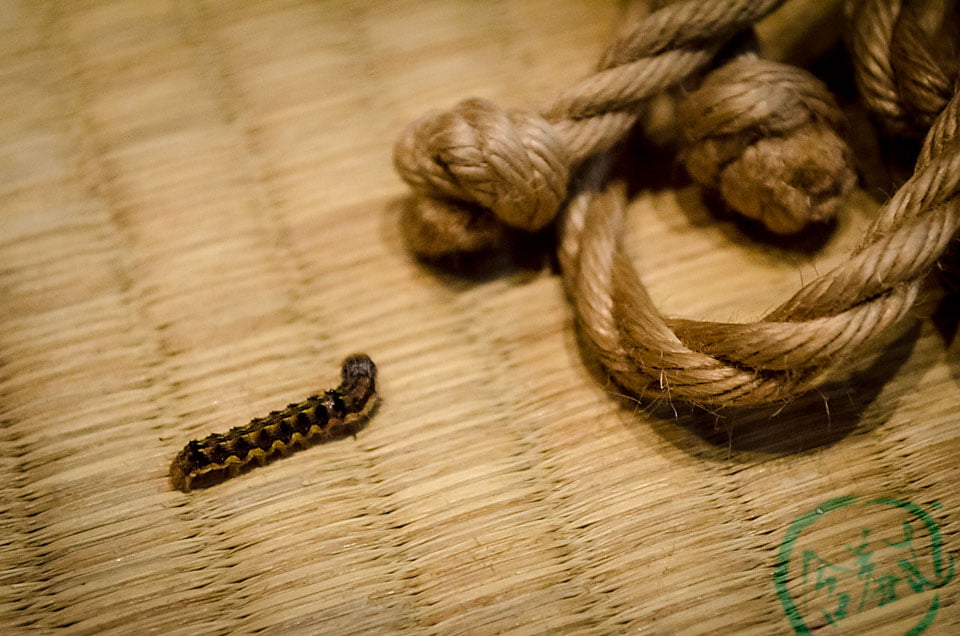 Now we were in need of something else. My hands were running slowly over her body to place the ropes, and twisted her lovely curves, to shape them even more beautiful!
I'm a story teller with no words and we both create the story with feelings and emotions. 私は言葉を持たない語り手です。
我々は両方の感情と感情との物語を作成します。
Her body was locked and her heart was bound to mine. Both our souls were free ! 彼女の体と彼女の心の鍵は私の運命にあった。
両方の我々の心を自由にしました!
行かせられる。We went.
Oh! no! night was not ended, only need to have a drink…
While chatting at the bar I started to ornament her body with my stories, after she had been asked to sit front of me, so I could at the same time look deep in her heart through the door of her eyes.
Once again I was feeling the simmering of her skin under my fingers, and was getting more aroused…
This is all about shyness… and guess what, I am too…
すべて彼女はのはにかみやであるからです。そして、何だと思う、私も…。
Ropes helps me being less shy, and being able to love…
オ縄をはにかむない私を助けます、愛に有能であることと・・・
Oh! nearly forgot wax play… but wen my eyes dropped on a candle…
そして、彼女は彼女自身の喜びに、オ縄との煩悩。
Then, she has her own pleasure, and rope.
Thank you for receiving us with such kindness. What time was it ? I do not remember, but the bar should have closed the door long ago.
I might have left this last rope tied somewhere on her body …
我々にそのような親切で受信していただきありがとうございました。 何時間だったのですか? 覚えていないが、バーのずっと前にドアを閉じているべきです。
これが彼女の体のどこかに縛られる最後の縄が残っているかもしれない
… But could not bring myself not to see her fly away. Then I covered her with the nagajuban so she regained possession of her body gradually, while Tanuki did the same.
しかし、離れて彼女の飛ばせるを見る必要がありました!
そして私は彼女の長襦袢で覆われているので、彼女は彼女の体を取り戻した所有の徐々に、狸は同じようにしました。
Epilogue:
While I was storing my ropes in the furoshiki, a caterpillar came from nowhere to lay on them. Signs of gods are always subtle, their lessons valuable and full of love.エピローグ:
風呂敷で私のロープを格納する間、彼らの上に横に毛虫がどこから来ました。神の徴候は常に微妙です、彼らの道の貴重な愛に満ちています
物の哀れ。10月10日、 和風SMバー 密蜜mitsu 新宿。