Bordeaux, France. January 14th. A Tokyo style performance.
This is more a play scene with the lovely Stella, like if I was in a rope bar in Tokyo. This scene was in front a a small attendance (about 10-15 peoples) after the first day of the workshop at Eveil des Inconscience.
Photos by Corine Photo Graphiste.
After the first day of workshop at Art des Cordes Sud, François diligentely asked me to play in front of the students.
Photos by Michel.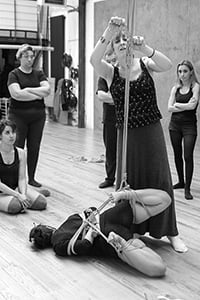 If you whish to, Isabelle Hanikamu will teach you the art of Japanese bondage (Shibari, Kinbaku) from beginner to advanced level. Both in private or group workshops at her school Kinbaku Gakkō (formerly Kinbaku dojo Montreal) or at your place, and this worldwide. Isabelle is officially licensed to teach "Naka Akira Ryu", she is a world reference at teaching this style.
I
Please send a message with the contact form for inquiries.